A Year of Climate Action With The Gaia Project
Jul 14, 2023
Happy summer vacation to all students and teachers across New Brunswick, and congratulations to all the graduates of the class of 2023! 

It has been another great year of empowering youth to take action on climate change with us at The Gaia Project. The 2022/2023 school year brought about the return of many beloved in-person events, as well as brand-new opportunities for us to connect with students and teachers. From our traditional classroom programs to STEM fairs and community events and co-chairing a national conference, we took part in it all this past year! 
The new and exciting... 
This year, we had the opportunity to pilot two new programs – our middle school Climate Labs program, and the Climate Justice version of our high school Climate Action Project (CAP) program. Climate Labs is a hands-on program that is broken into four different lessons: electricity use, renewable energy, waste, and air quality. These lessons help showcase the interdisciplinary nature of climate change while introducing the topics in fun and engaging ways. CAP- Climate Justice focuses on empowering students to make informed and ethical decisions about their consumption habits by thinking critically about climate change through a social lens. Both new programs were a huge success, and we are looking forward to officially rolling them out for the 2023/2024 school year!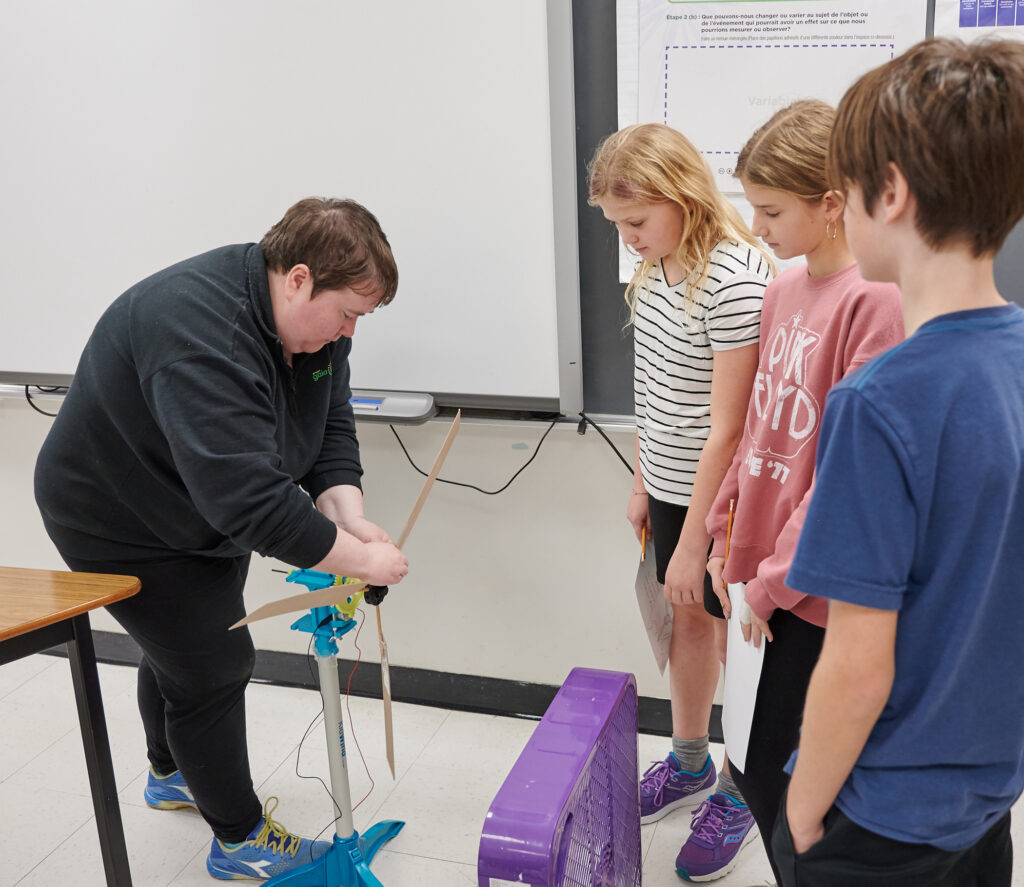 Brittany teaches Nashwaaksis Middle School students about sustainable energy through our Climate Labs: Renewables program) 
We also saw the growth of our Green Experts program, with a new learning package and web page being launched, and more classroom engagements with our experts than ever before! Our team was hard at work recruiting over 100 volunteers to be Green Experts and hosting 14 panels with high school classes across NB, two of which reached over 100 students each! In total, this program reached 1,469 students throughout NB! To top it off we also wrapped up the filming of our "My Green Job" video series, highlighting organizations and individuals across NB working in green careers. Stay tuned for the final product launching in the Fall of 2023!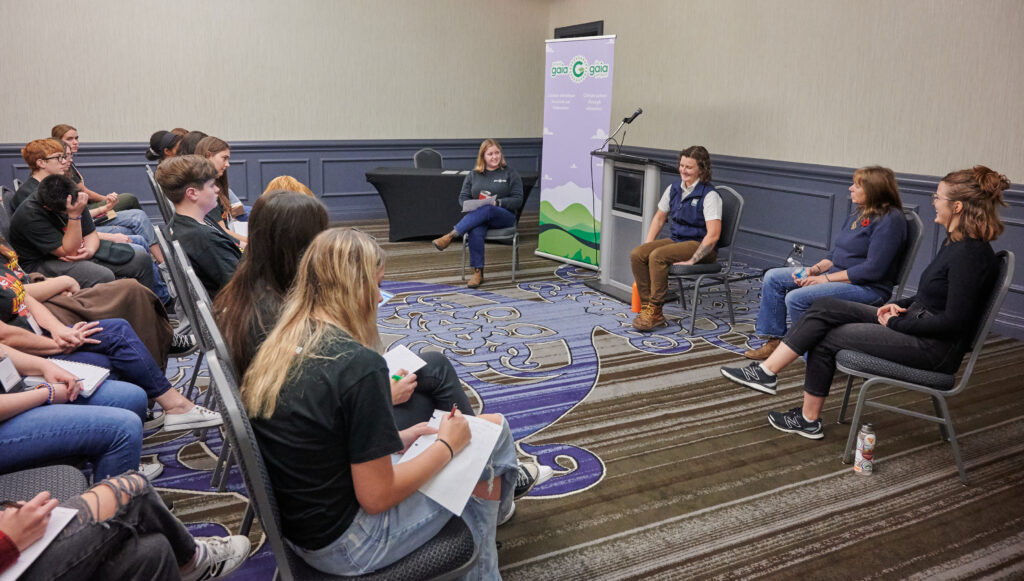 Ainslee hosts a Green Experts Panel at the NB Student Leadership Conference. 
The tried and true... 
This school year we saw an unprecedented increase in requests for all of our programs, including Trash Tracker, Energy Escape, Energy Detectives, and Climate Action Project – prompting us to create a waitlist for numerous programs in April.  A huge thank you to all the teachers who requested programs this past year!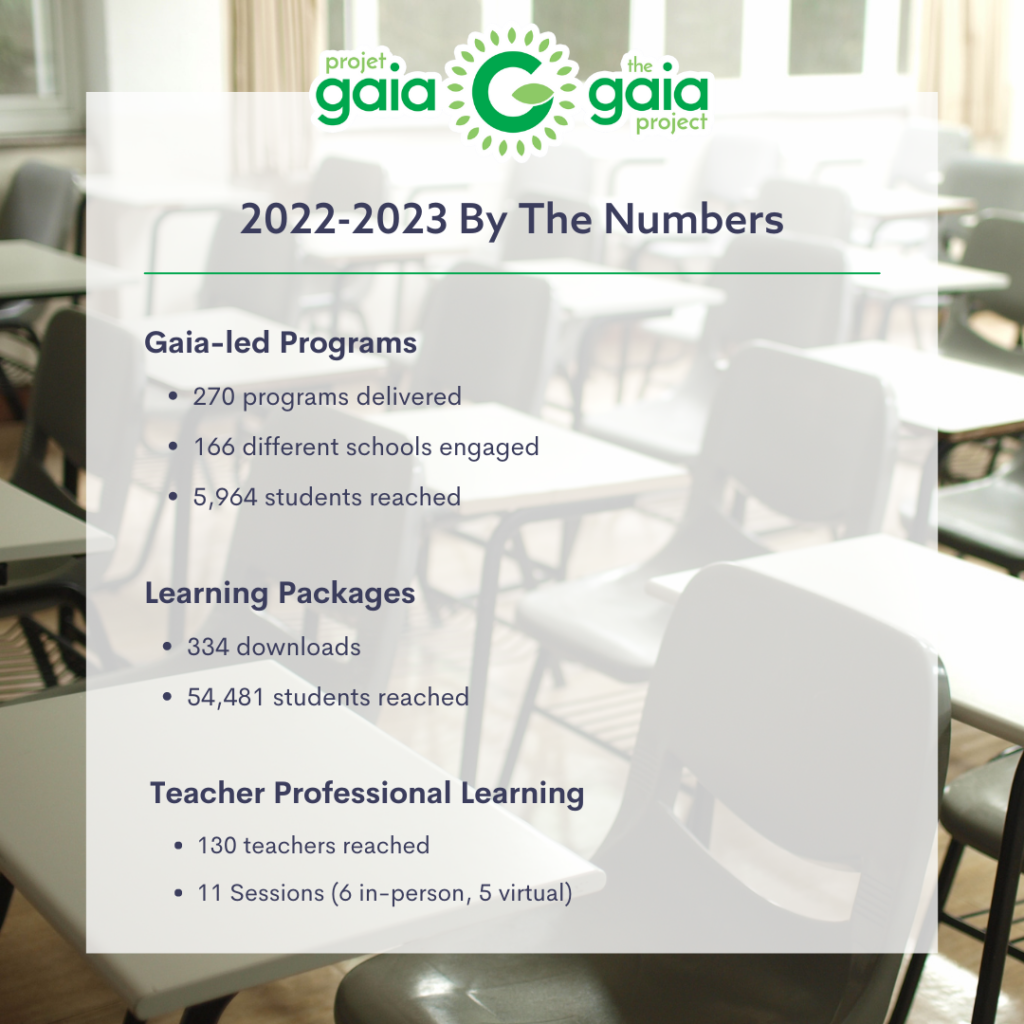 EcoSchools in New Brunswick… 
The 2022/2023 school year saw more New Brunswick schools engaged with the EcoSchools platform than the last 3 years. 16 NB schools became certified EcoSchools this year, including 8 Platinum, 5 Gold, 2 Silver and 1 Bronze, with 27 participants as of June 23, 2023! Check out the NB EcoSchools Impact Report to learn more. 
Congratulations to the 2022/2023 certified EcoSchools in New Brunswick!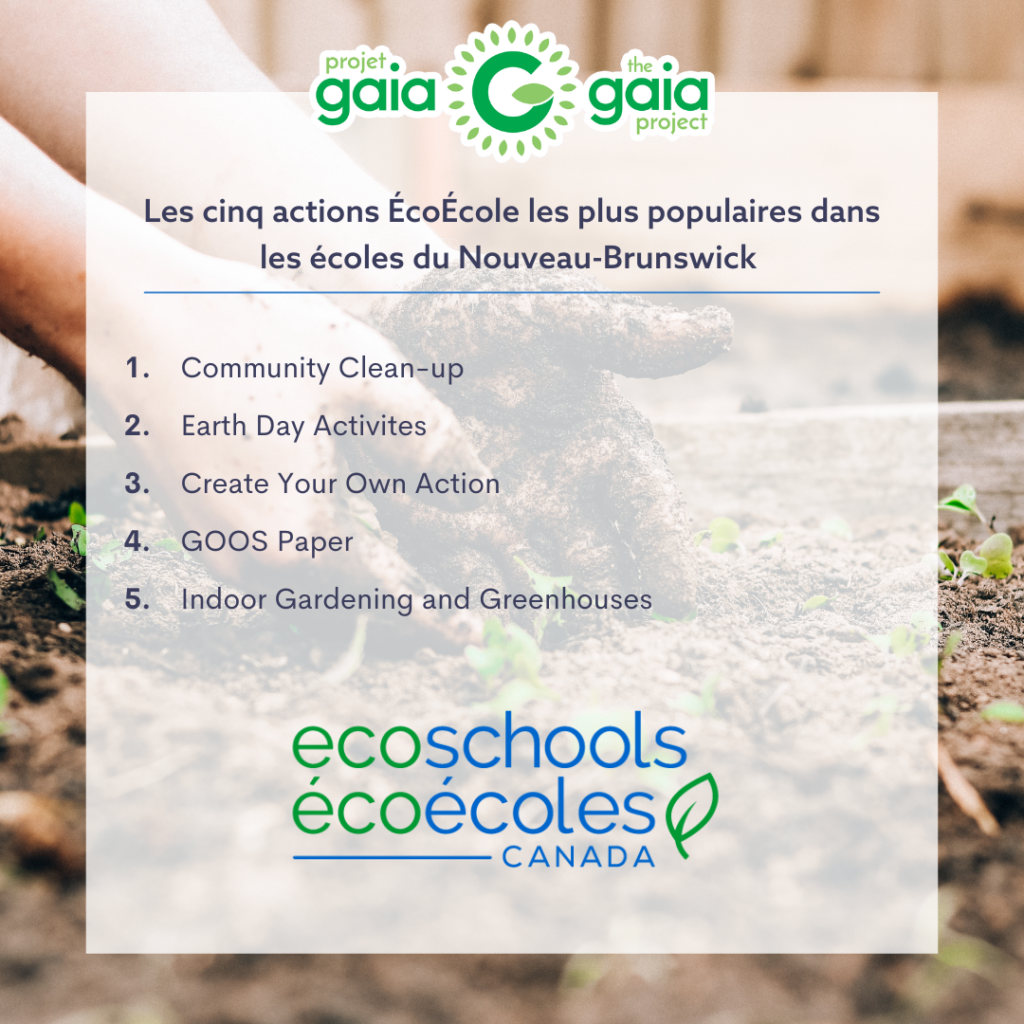 We have some exciting things in the works with our partners at EcoSchools Canada for the 2023/2024 school year, so stay tuned!   
The return of events and a special Earth Week celebration! 
We were overjoyed to attend so many school celebrations and special events this year. Our staff participated in school yard clean-ups and waste-reduction initiatives, had community booths and sessions at regional STEM fairs, helped schools get their EcoSchools program off the ground, toured wind farms with the Centre of Excellence for Energy, and even hosted the official book launch for our children's book Swallow Finds a Nest at the Fredericton Public Library. This was an incredibly exciting time for us to finally see something we had worked on for over a year come to fruition. Written by elementary school teacher and Quebec-based children's author, Emelie Demers, and illustrated by New Brunswick artist Réjean Roy, Swallow Finds a Nest introduces elementary-aged children to concepts of environmentalism and sustainability. 
During Earth Week (April 17-21) we participated in 9 individual programs/events – including one virtual session where we reached 2500 students! This week was a clear highlight for our staff, and we are already planning for the next school year.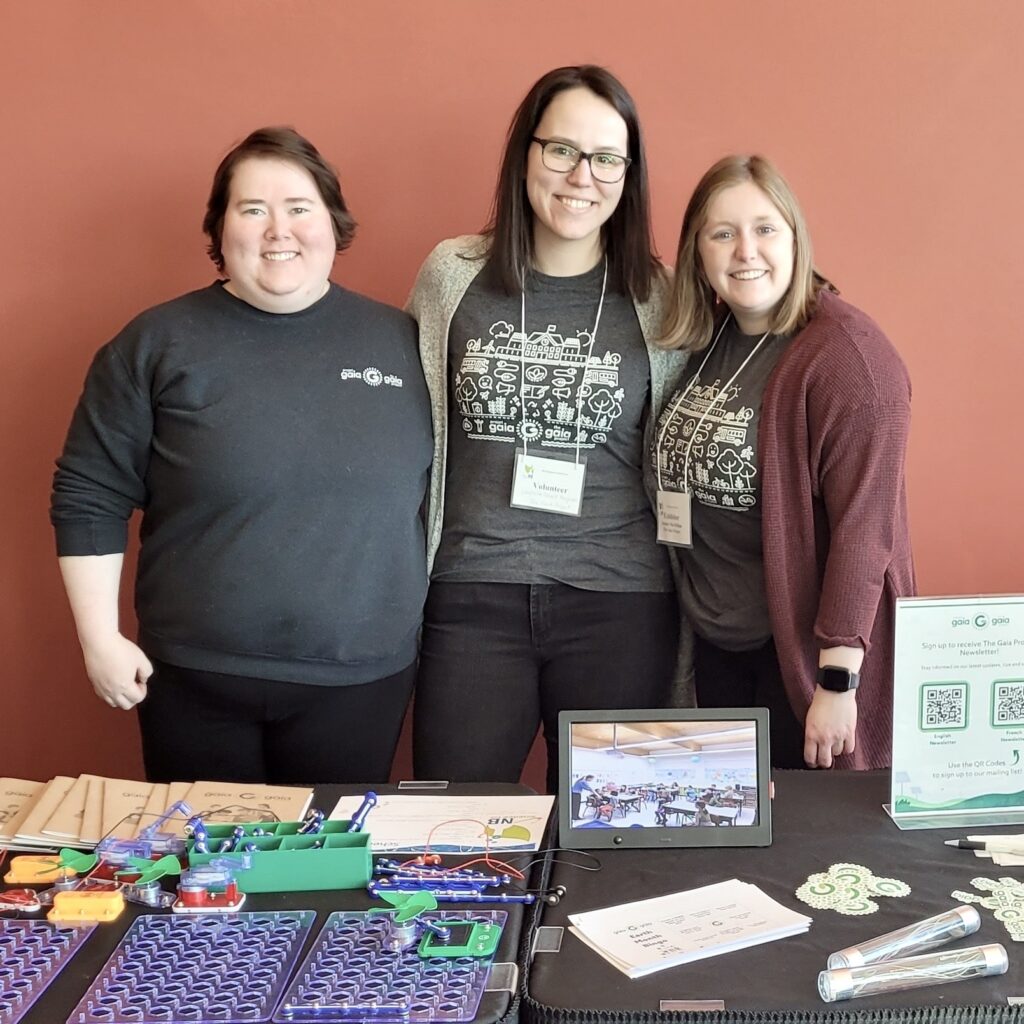 Brittany, Guylaine and Ainslee attend the NB Regional STEM fair.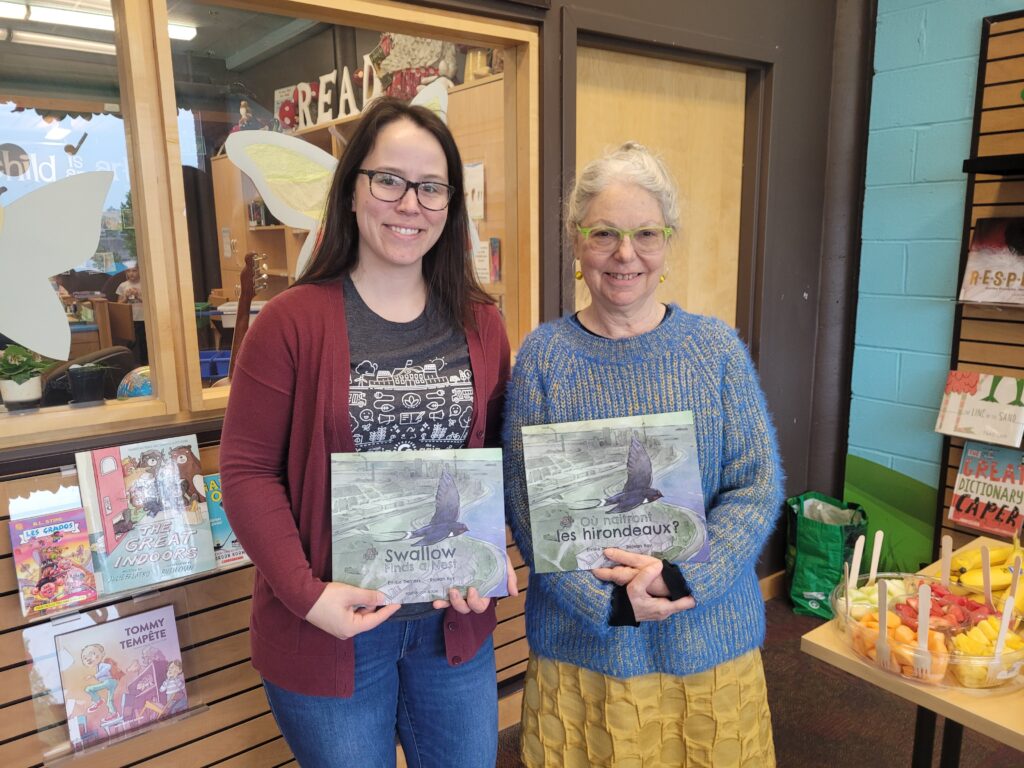 Guylaine Ferguson, Program Manager at The Gaia Project, and Marie Cadieux, Executive and Literary Director at Bouton D'or Acadie, stand together at the book release for Swallow Finds a Nest.  
Moving Forward...   
It was great to be back in so many schools across the province this school year, we saw so many students and teachers going above and beyond to take climate action in their schools and communities. We saw an increase in food forests and school gardens, the creation of GOOS paper bins and improved recycling systems, increased interest in transportation at the high school level, and even a functioning compost system built out of an old buoy at Campobello Island Consolidated School! 
Our staff team has grown over the past year, bringing an even more diverse set of skills to the table. We can't wait to see what innovative projects take shape in the coming school year! From our growing team to you – happy summer vacation! 

Interested in seeing some highlights from the year? Check out our TikTok to see our team in action!
@thegaiaproject_

Thank you #NewBrunswick for an amazing year of ClimateAction! From events, to projects, we are honoured to be able to visit every corner of the province, helping to inspire future #ClimateLeaders through ClimateEducation. . Merci au #NouveauBrunswick pour cette formidable année d'ActionClimatique! Que ce soit pour des activités ou des projets, c'est toujours un honneur de voir les quatre coins de la province et d'aider à inspirer les futurs #LeadersClimatiques par le biais de l'#ÉducationAuClim
Author: Ainslee MacMillan, Special Projects Manager, The Gaia Project
Follow us on social for more stories, news and updates:
Facebook: www.facebook.com/gaiaproject
Instagram: @thegaiaproject_
Twitter: @gaiaproject
LinkedIn: @thegaiaproject-projetgaia
TikTok: @thegaiaproject_