All Aboard the Ecotourism Train!
Jun 4, 2021
Teachers and school staff, I know you have all had a very busy year and that the start of the summer will bring you some well deserved rest! With Summer vacation fast approaching, I thought it would be relevant to talk about ecological tourism.
What is ecotourism?
Ecotourism is a practice that aims to protect natural environments while educating tourists about the importance of these areas. In addition, it is about making your vacation as environmentally friendly as possible by rethinking the following aspects: transportation, accommodations and activities.
Transport
When travelling with young children, there are two important factors to consider: distance and mode of transport. In terms of distance, of course, the closer to home your destination is, the less transportation pollution there will be.
It will not always be possible to avoid certain means of transport. With young children, not all families are ready to hike for a few days to explore the trails in the province.  In cases where taking a car or even a plane is unavoidable, there are initiatives like Planetair.ca where you can buy your carbon emissions through their calculator (also known as carbon offsets, or carbon credits). Of course, the carbon we don't emit is still the best option.
If you enjoy taking your time and enjoy beautiful landscapes, bike tours are a good option for you. Thanks to cycle routes such as those of the Véloroute de la Péninsule acadienne (VPA) and the Confederation Trail in Prince Edward Island, it is possible to visit regions close to home while avoiding producing more carbon emissions. If you are not ready to travel by bike for a few days, why not take day trips during your vacation to explore your region!
Accommodation
Generally the hospitality industry has been recognized as a sector that is not very environmentally friendly. The energy and water consumption of these establishments are very high, not to mention the cleaning products used for the maintenance of the sites. In recent years, more and more hotels have changed their practices and infrastructure in order to be more energy-efficient and reduce their water consumption.
While New Brunswick may have limited eco-friendly accommodation options, there are still a few opportunities available, especially in nature reserves such as provincial and national parks. Camping remains a green way to find accommodation during your travels. Have you tried yurts and oTENTiks options? You can rent these for your stay at Fundy and Kouchibouguac National Parks.
If camping isn't your cup of tea, there are certifications, like Green Key Global, to help you find accommodations that are environmentally friendly. By visiting their website, you will be able to find hotels in the province and around the world that have achieved different levels of certification, depending on their environmental commitment.

Activities
If you consider yourself eco-conscious, but don't necessarily want to dive right into the heart of nature, there are still plenty of activities to do while on vacation!
 Ecological tourism aims to make people discover natural spaces without harming the integrity of the area. For example, the Véloroute de la Péninsule acadienne is a 610 km trail where it is possible to discover the wonders of the northeast without having to use a car.
Let's make a detour to Edmundston. Have you ever had the chance to visit the New Brunswick Botanical Garden? They offer educational workshops on topics such as medicinal and aromatic plants!
Whether you like hiking, paddling in the Bay of Fundy or visiting interpretive centers, you'll find something to suit your taste!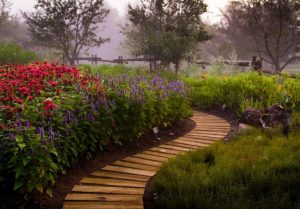 Finally, before your next vacation don't hesitate to do your research to find the best environmental options for transportation, accommodations and activities. Remember that the closer you are to your home, the less pollution there will be from travel. All you have to do is rethink your travel habits and get out of your comfort zone to be able to practice ecological tourism. 
Now, if you're like me and like to bring back a souvenir from your getaways, go see the local artisans and producers bring back a work of art, local delicacies or even handmade furniture!
Author: Catherine Rioux, Program Delivery Officer: Francophone School Districts, The Gaia Project
Follow us on social for more stories, news and updates:
Facebook: www.facebook.com/gaiaproject
Instagram: @thegaiaproject_
Twitter: @gaiaproject
LinkedIn: @TheGaiaProject