Art, Education, and the Environmental Movement
Mar 29, 2021
Art has the power to change the world. It creates a space for inclusivity, welcomes diverse perspectives, and sparks discussion. The arts help us address difficult and dividing issues, sometimes with humour, poignancy, or irony, and can provoke thought beyond our initial judgments.
But art can also be uncomfortable and intimidating. But by integrating art within wider educational conversations and programming, students are empowered to explore major societal challenges through a diverse set of lenses.
So how does this help us address and tackle climate change?
In the article, Learning about climate change in, with and through art, Dr. Julia Bentz of the Centre for Ecology, Evolution and Environmental Changes, describes how teaching climate through a fear-based framework can cause eco-anxiety amongst children and youth. By only focusing on the daunting effects of greenhouse gas emissions, rising temperatures and sea levels, educators are more likely to instill feelings of hopelessness, apathy or even climate change denial.
Bentz continues to explain how art inspires an emotional connection which can help young people feel directly and authentically linked to nature in a more personal and empathic way.
Integrating climate change in arts courses, expressing with art, and learning through art can prepare and empower young people to address climate change themselves and add to the current discourse in a way natural sciences alone are unable to achieve.
But can the arts actually help solve climate change?
Yes! In addition to helping young people and adults engage in climate change discussion, the arts can have a very real and direct impact on society, politics, and culture. Rachel Carson's, Silent Spring, as an example, is a literary expression of Carson's personal and professional critiques surrounding the pesticide industry, particularly the use of DDT on crops. A Biologist, Carson wrote for the general public, crafting her message to be accessible, entertaining, and stirring to audiences stretching beyond the scientific community.
As a result of its publication in 1962, Silent Spring inspired the U.S. government to re-examine the safety and efficacy of pesticide use and regulations surrounding pesticide use were tightened. Today, Silent Spring is widely credited as sparking the modern environmental movement.
Although Silent Spring was written by a trained Biologist, environmental art can be created by and for all members of the community, and mediums of art are certainly not limited to non-fiction books. Edward Burtynsky as an example, uses photography and videography to articulate his stories about the environmental and social impacts of industrialization and globalization. Burtynsky's documentary Manufactured Landscapes, presents his perspectives through capturing the vastness of human existence, and the human impact on the environment. Both beautiful and disheartening, Manufactured Landscapes relies heavily on imagery rather than narration, letting the viewer draw their own conclusions and perspectives.
Environmental Art is not limited to visual or written formats. There are numerous musicians (such as Neil Young, Joni Mitchell, and Thom Yorke), who have promoted environmental and sustainability messages through music. Theatre and Dance have also been used to tell stories and inspire action. Artichoke Dance Company as an example, specializes in "eco-arts performance and climate action", using entertainment and education as a means to mobilize volunteers to pick up litter, and inspire audiences to actively engage with the environment.
Okay, art exists within environmentalism. So how do we bring eco-arts into the classroom?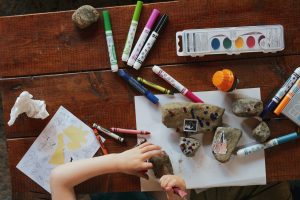 Children are born artists. They naturally want to experiment and (albeit sometimes frustratingly), want to test limits and boundaries. Dr. Julia Bentz led fine arts students in climate change programming and projects that were designed to be immersive and experiential. Students were asked to research the impacts of climate change, reflect on their personal sentiments and experiences, and identify parallels within the classroom through small group discussion. In completing this project, students utilized problem-solving skills, inquiry and analysis techniques, and collaboration skills. The teacher provided technical guidance, and students created their own artistic pieces illustrating their conclusions and key findings.
I acknowledge that not every subject is arts-focused, however, art is simply about communication. The nature of what is being communicated can be adapted to science, humanities, and technology. Art can be used to allow students to demonstrate their learnings within different curriculums, and offers a perfect opportunity for students to incorporate their own viewpoints and thought processes. Short stories, song writing, murals, performance art, photography, blogs, graphic design, poetry, etc. can all be used to communicate course content, and artistic mediums can be instrumental in teaching climate change education in a positive and solutions-oriented manner.
Art has the power to change the world. When we merge scientific data and civic engagement with the emotional influence of art, we embrace diverse strengths, skills and expertise. We encourage new voices and perspectives, and establish the foundation for community collaboration in solving some of our most pressing issues – including climate change.
More Resources:
References: 
Bentz, Julia. "Learning about Climate Change in, with and through Art." Climatic Change, Springer Netherlands, 7 Aug. 2020, https://doi.org/10.1007/s10584-020-02804-4
Author: Katelyn Plant, Communications Manager, The Gaia Project
Follow us on social for more stories, news and updates:
Facebook: www.facebook.com/gaiaproject
Instagram: @thegaiaproject_
Twitter: @gaiaproject
LinkedIn: @TheGaiaProject