EcoSchools: Register your School to Certify!
Oct 11, 2021
Are you looking to take your environmental actions school-wide? The Gaia Project is proud to be partnered with EcoSchools Canada, an annual certification program that aims to reduce the environmental footprint of schools across the country. The EcoSchools program is both a framework and a toolbox for taking action and engaging in environmental education.
In 2019, The Gaia Project and EcoSchools Canada formed a partnership to bring the award-winning EcoSchools Canada certification program to New Brunswick schools. The Lighthouse Pilot, as it was called, was piloted in 25 selected schools during the 2019/2020 school year, an in-person collaborative session was scheduled for March 2020, hosted by Gaia and EcoSchools, however, school closures and restrictions brought that to an abrupt halt.
Despite all the challenges and constant state of flux, 16 NB schools certified in the 2020/2021 school year, ranging from Participant to Platinum level.  For students, the program provides opportunities for leadership, connection with classmates in different grade levels via peer-to-peer mentorship, and a way to learn about sustainability while having fun. For teachers, the EcoSchools program integrates seamlessly with curricula across Canada and offers unique opportunities for learning: in a June 2020 survey, 78% of teachers reported that the program has benefited them personally and professionally, and 84% say they are likely to recommend the program to colleagues. Learn more about their impact – EcoSchools Canada National Impact Report 2020-21.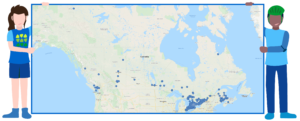 With their new 2021-22 Certification Guide, it is even easier for new and returning schools alike to certify. This comprehensive resource includes an annual calendar, steps to certification, how to get started on the EcoSchool Certification Application, and more. Plus The Gaia Project will be here to help you along the way. This webinar is a great place to get started.
EcoSchools has a profound effect on how schools operate; a 2017 study concluded that if all of the schools in Ontario alone were well-performing EcoSchools, the overall greenhouse gases would be reduced by an estimated 64,800 tonnes (or about 462 blue whales at 140 tonnes each). Can you imagine if every school nationwide was an EcoSchool? We can!
This year, EcoSchools is excited to launch 4 new actions! All actions are connected to many Sustainable Development Goals (SDGs) including Climate, Sustainable Cities and Communities, and more.
Connect with Nearby Nature:

Grow deeper connections to nearby nature and share your learning by developing place-based field guides, maps, or signage!

Sit Spot:

Cultivate awareness and well-being by regularly visiting one specific spot where you can sit, slow down, awaken your senses, and learn more about yourself and the local environment.

School Water Audit:

Explore how your school uses water through an audit, and implement water-saving strategies to protect this precious resource!

Get Cooking!: Learn how to cook from scratch, preserve food, support local food systems, and feed your school community.

This graphic demonstrates how participating EcoSchools contributed to some of the SDGs during the 2020-21 school year. 

For example, 67% of schools implemented actions to track and reduce energy use – connecting to SDG 7 – Affordable and Clean Energy

And 97% of schools monitored and diverted waste – directly contributing to SDG 12 – Responsible Consumption and Production

EcoSchools actions are also connected to many other SDGs including Climate, Sustainable Cities and Communities, and more.
EcoSchools certification is open to all schools across Canada. This includes English- and French-language schools, Indigenous schools, independent/private schools, and outdoor and environmental education centres (OEECs) that are associated with school boards and districts.
"My experience with the EcoSchools Certification program and working with the Gaia Project has been truly amazing. The students have had a great time taking part in the challenges and activities. They enjoyed learning about ways to help create a better environment and ways to support our community and school becoming more environmentally friendly.

I have taught for 15 years, and this is exactly what I was looking for this year. The online resources and their willingness to connect virtually has been so great. They interact with the students in a very positive way. The students have enjoyed meeting the staff members and taking part in the virtual meetings.  

I would highly recommend teachers trying some of the activities that these programs offer. See where you can go with it and see the excitement that it brings to your students."

Brent Anderson- Deer Island Consolidated School
Registrations are now open on their website. Enroll your school today and start the journey to becoming a certified EcoSchool.