Mental Health and Nature. What's the Deal?
Jan 28, 2021
As I reflect on Bell Let's Talk Day, an initiative to help start a conversation around mental health, I realize that nature has been taking care of me in so many ways. I know for a fact that being immersed in nature helps me cope with anxiety. Being surrounded by trees, breathing deeply and listening to the chickadees and other bird calls I do not yet recognize (working on it!), makes me feel happy. Just thinking about it makes me smile.
I am a nature lover. Ever since I was a young kid, I have always loved to be in nature. Our parents would bring us hiking, camping, snowshoeing, canoeing, you name it. As long as I was outdoors surrounded by trees, I was happy (thanks mom and dad). So it makes sense to me that nature can have a calming and soothing effect on my mental and physical well-being.
Don't just take my word on it. Louise Delagran, of the University of Minnesota, wrote an article titled How Does Nature Impact Our Wellbeing? She describes its nurturing effects like this:
Exposure to nature not only makes you feel better emotionally, it contributes to your physical wellbeing, reducing blood pressure, heart rate, muscle tension, and the production of stress hormones.
A general feeling of happiness and lightness, that's how I feel after a nice walk.
Even with my upbringing, I got lost a few years back. Not lost in nature, but lost in my head, that is. Like many of us in this modern age, I was overwhelmed, overworked and overstressed.
After I realized that I was going through a burnout, I sought the help of a therapist and it was the best thing I could have done for myself. Before therapy, I felt lost, constantly low in energy and ungrounded. The therapist was crucial in asking the right questions to help me find myself again and to help incorporate healthy habits back into my daily routine.
One healthy habit to incorporate in my day, was to get back in touch with nature. I started walking during my lunch break, I made sure to put my cell phone on airplane mode to disconnect fully. Getting fresh air in my lungs, taking deep breaths and surrounding myself with trees and plants was a great reminder of how nature is always taking care of me.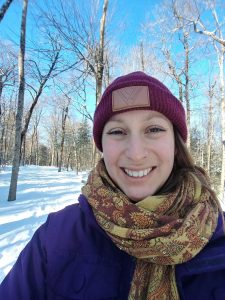 Developing and strengthening my relationship with nature helps me cope with anxiety, so let's just say that I have been nature bathing A LOT since COVID!  I have days that I do not go for a walk outside and it is not the end of the world, but I can definitely feel the difference. 
When I feel grounded and clear minded, I know I can move mountains.I know deep down I can make positive changes in this world. Looking at the reality of the climate crisis we are facing in 2021, when I walk in the woods and am given so much, I wonder to myself: ''How do I give back?''
Nature takes care of me, so how am I taking care of nature?

If I don't take care of myself, I am not capable of taking care of anyone else and this includes mother earth. It is easy to feel anxiety around environmental issues and It can even become overwhelming. Through fostering a relationship with nature and subsequently feeling more grounded, I am capable of asking that question. And the question leads to action, even small actions create change.
I can be a citizen of change and so can you. But before fighting against climate change, you need to take care of yourself first.
More resources:
In case you didn't know, there is also a great hiking website for weekend adventures, when permitted :

Hiking NB

  (shout out to the volunteers who run this website)

Carl Duivenvoorden shares strategies to help cope with the stress of Covid-19 and climate change in his blog A Threat COVID and Climate Change have in Common
Reference list:
Delagran, Louise. "

How Does Nature Impact Our Wellbeing

.'' Taking charge of your health & wellbeing (University of Minnesota). www.takingcharge.csh.umn.edu/how-does-nature-impact-our-wellbeing
Author: Anna-Lee Vienneau, Communications and Networking Coordinator, The Gaia Project
Follow us on social for more stories, news and updates:
Facebook: www.facebook.com/gaiaproject
Instagram: @thegaiaproject_
Twitter: @gaiaproject