Resources for teaching sustainability – Virtually!
Nov 3, 2021
Are you looking for complete resources to download that will help you teach your class about sustainability themes? Look no further! Here are TEN resources created by The Gaia Project that will resonate with your students and hit that lesson even harder!
These resources are from Climate Quest, a previous program we offered last year, and instead of these amazing activities just sitting here, we are sharing them with you and your students! There is something for every grade level. These 20-minute curriculum-based activities and videos will help give your students insight to many aspects of sustainability.
GRADES 3-5 RESOURCES
These resources look at the basics on how we use energy, trash and recycling, the lifecycle of food and some fun nature activities. Students enjoy taking part in these activities and they have direct curriculum connections.
EN – Grade 3-5 recap
GRADES 6-8 RESOURCES
These resources take a deeper dive into how our food comes to us, how we preserve it and then what happens to the waste. Students learn about energy usage, how energy is generated and the cost and pollution that comes with that generation.
EN -Grade 6-8 recap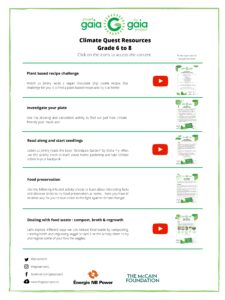 GRADES 9-12 RESOURCES
These resources allow students to explore in-depth the concepts of food production, waste, water, electricity and transportation.
EN – Grade 9-10 recap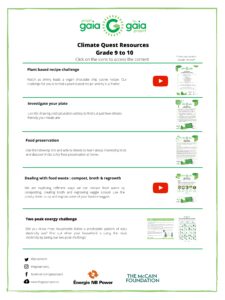 Want to learn more about these resources and all the other amazing ones we have!? Sign up for a program from The Gaia Project! Our fully developed programs do not require additional work from teachers. We offer them all the material they will need in order to give their students a rewarding experience!
The Gaia Project has been named the number one for Environmental Materials Provided By Non-Governmental Groups by New Brunswick teachers in the SCHOOL SUSTAINABILITY SURVEY 2021 from New Brunswick Environmental Network.