Swallow Finds a Nest Book Launch Press Release
Jun 5, 2023
For release anytime between May 27th – June 3rd, 2023 
Book Launch, World Environment Day & Climate Action Education Event: Reading and watercolour activity at the Fredericton Public Library. Hosted by The Gaia Project and featuring special guest speakers Marie Cadieux, Executive and Literary Director at Bouton d'or Acadie, and children's author, Jennifer Houle.  
The warm, spring weather is returning, and so is Swallow, back to her home where she builds her nest each summer. But oh no! The barn where she always builds her nest is gone, replaced by a large field of corn…Follow swallow as she journeys across the land in search of a new place to nest, meeting friendly animals along the way and discovering the environmental impacts of climate change in this New Brunswick-developed children's book, Swallow Finds a Nest.
Written by Elementary school teacher and Quebec-based children's author, Émilie Demers, and illustrated by New Brunswick artists Réjean Roy, Swallow Finds a Nest is designed to introduce elementary-aged children to concepts of environmentalism and sustainability. Swallow Finds a Nest is a light-hearted, sweet story of a Swallow who finds friendship and beauty in unlikely places, despite the challenges caused by climate change and development. This is a story of perseverance, community and youth climate action.
What makes Swallow Finds a Nest particularly unique and important is that it fills language and content gaps in children's literature. Written first in French and later translated to English, this book is available in both official languages without sacrificing the quality of the French-reader experience. Secondly, teaching children about big topics such as climate change can be challenging, and this book makes it a little easier for parents and teachers to have this discussion in a light, solutions-focused and age-appropriate way.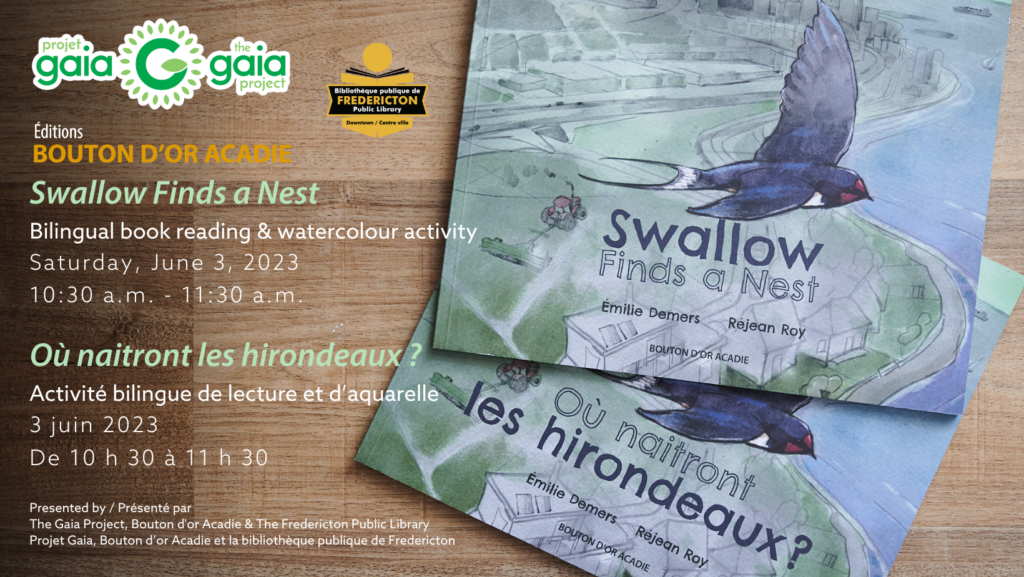 The Gaia Project is New Brunswick's leader in climate education for grades K-12. Providing project management and creative direction in the development of Swallow Finds a Nest, The Gaia Project worked collaboratively with the book's author, illustrator and publisher. 
While Swallow Finds a Nest was quietly published by New Brunswick-based publisher, Bouton d'or Acadie, in winter 2023, the official launch is being celebrated with an in-person book reading and watercolour activity on June 3rd, 2023 at the Fredericton Public Library, two days in advance of World Environment Day on June 5th. This is a bilingual, family-friendly event and no registration is required. Guests who require ASL interpretation services may reach out to contact@thegaiaproject.ca and The Gaia Project will do their best to accommodate this request.
Swallow Finds a Nest is included in The Gaia Project's K-2 Sustainability Literacy kits, available by donation (valued at $1,000), to local schools and libraries. The purpose of this climate literacy resource is to present sustainability and climate change as a tangible, addressable and solvable issue, and to celebrate the power that young people have in solving this dilemma. Every action has an impact, and every person (young and old) has the power to participate in the solution. Individuals interested in purchasing a French or English K-2 Sustainability Literacy Kit for a New Brunswick can reach out to Geoff MacDonald, Executive Director at the Gaia Project at geoff.macdonald@thegaiaproject.ca.
For interviews, media or donation inquiries, please contact: 
Guylaine Doucet-Ferguson 
Program Manager 
Guylaine.Doucet-Ferguson@projetgaia.ca 
506.262.5221 
Swallow Finds a Nest can be purchase in French or English at boutondoracadie.com 
About The Gaia Project 
Founded in 2009, The Gaia Project is a New Brunswick-based Charitable Organization that aims to empower young people to become climate action leaders within their schools and communities. For more than ten years, staff have visited classrooms across the province, teaching students about sustainability through the lens of existing curriculum. Over the years, however, The Gaia Project has grown to incorporate other offerings in an effort to better serve teachers, students, and communities in New Brunswick. This includes teacher-led, downloadable resources, in-person and virtual programming led by The Gaia Project staff, EcoSchools Certification integration, career mentorship, and youth-led climate leadership projects as part of high school humanities and civics classes. 
Follow us on social for more stories, news and updates:
Facebook: www.facebook.com/gaiaproject
Instagram: @thegaiaproject_
Twitter: @gaiaproject
LinkedIn: @thegaiaproject-projetgaia
TikTok: @thegaiaproject_