Why Environmental Education Programs are Essential
Oct 5, 2022
Most people would agree that education is a necessary component in the process of bringing about positive change. After all, action is often inspired through the sharing and enhancement of knowledge. At our present time in history, arguably the most prevalent and urgent topic is that of climate change due to its all-encompassing nature. As countries around the world pose questions and seek solutions to the crisis we now face, it is more important than ever to educate youth on environmental sustainability.
There are a number of reasons why education across various environmental fields is beneficial:
1. Critical thinking
As children develop, opportunities to learn inquisitively contribute to the growth and refining of critical thinking skills. As these skills are expanded upon, children are enabled to think for themselves and ask important questions. Fostering critical thinking in children through environmental education, specifically, may spark a lifelong desire and ability to brainstorm answers through creative problem solving with regards to the climate crisis.  
2. Love for nature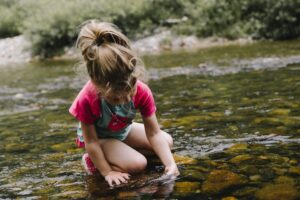 An introduction to nature can form the foundation for a love of the outdoors. Protecting the environment is an essential sustainable action and those who experience a sense of joy in natural spaces will be more likely to find motivation to do whatever they can to protect these spaces.
Of course, the best way to instill a love of nature is through firsthand experiences. While we generally think of a classroom when discussing the topic of education, getting outside can offer new and unique learning opportunities. Additional benefits include academic improvement across a variety of subjects and the encouragement of active, healthy habits.
3. Preparation for sustainable careers.
The environmental sector can be separated into numerous categories. While the realm of science is generally what comes to mind, any career can become a green job if sustainable practices are prioritized. For example, someone working as an artist may take part in environmental work if their methods align with sustainable goals, or their subjects reflect an appreciation for nature. Learning about green initiatives can influence students to transform their lifestyles, along with their professional goals, to include a greater sense of environmental consciousness.
Upon the completion of high school, young people are tasked with weighing their career options. Providing them with experiences to learn more about the challenges associated with climate change opens the door for sustainable action. As they move forward into the job bank, young people have the chance to make a difference in their communities. Equipped with an understanding and concern for the climate crisis, the younger generation are empowered to make impactful changes across a wide range of career paths.
To learn more about current sustainable careers across New Brunswick check out our Green Experts program and map:  
4. Sociological implications
As environmental challenges are improved upon, numerous associated sociological factors may benefit as well. For example, as we move away from fossil fuels towards renewable energy sources, air quality will be improved resulting in a healthier atmosphere for people, plants, and animals. From an industrial agricultural standpoint, sustainable practices are crucial in order to avoid resource depletion. The topic of clean water is both an environmental concern and a major humanitarian issue. The scarcity of clean water around the globe has contributed to significant and widespread health emergencies. These are just a few (among countless) examples of how the connections between global environmental, sociological, and economic issues are undeniable.
The climate crisis is urgent and ongoing. Yet not nearly enough is being done to reverse or even stop the damage we've done. Major changes need to occur around the world towards sustainable practices. We as individuals often ask ourselves what we can do and how much we are able to impact the world around us. The fact of the matter is, we can't do it alone. Climate change is a massive issue and we need to come together to address it. This is why one of the most important things we can do is to educate.
As we seek to educate youth on sustainable strategies and actions, we have the opportunity to lead by example. We often make the mistake of assuming children are unable to comprehend complex topics and real-world issues. However, by inviting them in to the discussion on climate change, we can empower youth by showing them that their voices matter and their ideas are important.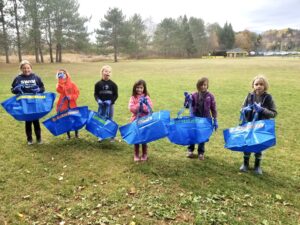 Here at the Gaia Project, we offer programs for all grade levels on a variety of environmental subjects including renewable energy, green career mentoring, food forests, recycling, composting…etc. Our team travels around the province to inspire youth to take climate action. If you are a New Brunswick-based educator, take a look at the resources we provide from grades K-12 and don't hesitate to get in touch with us to learn more about how you can incorporate green initiatives in your classroom, inspire environmental consciousness, and empower your students to take climate action. 

For additional information: 
1. GreenLearning. (2021, August 10), The importance of teaching sustainability in schools,  
2. Nicholl, R. M., Global EdTech, (2021, August 15), Green education: Motivating students to think sustainable 
3. Project Learning Tree, (2016, December 7), Why Environmental Education is important 

Author: Serenna Chapman, Student Intern

Follow us on social for more stories, news and updates:
Facebook: www.facebook.com/gaiaproject
Instagram: @thegaiaproject_
Twitter: @gaiaproject
LinkedIn: @thegaiaproject-projetgaia
TikTok: @thegaiaproject_